Format: Beer Labels
Client: Crave Cave Brewery
Technique: Digital
Year: 2021 - 2023
Illustration and design work for Crave Cave's second range of beer brands - with more space for the illustrations, and a more gritty, detailed and realistic lineart style - while keeping the brand identity.
Knø

kji

n is a refreshing low-alcohol beer, which we tried to showcase with a fresh and vibrant palette, in a scene depicting CC mascot Loki on a new adventure, with nature in bloom all around. We continued the theme of northern mythology, mainly by incorporating Valhalla's very own Heidrun into the scene. Local landmarks were also included in the skyline.
'Loki's Horn' is Crave Cave's first venture into mead production - with locally sourced honey. With their branding involving northern mythology already - the mead of poetry seemed like an obvious name and concept. Mead also felt like it lent itself to a slightly more sinister tone than their previous labels - so we opted for a scene with Loki bringing vikings back from the grave, for 'one last round'. The brewery has already included quite a bit of wave imagery in their brand, being located on the Atlantic coast. This time we mirrored that with overflowing honey. The palette was also inspired by honey - with the 'necromancy' part taking on a contrasting color. Skeletal bees were a given from the get-go.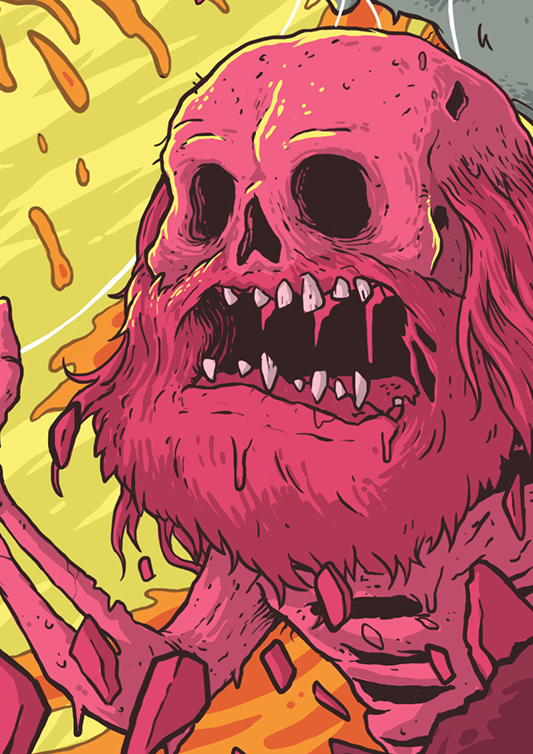 Copyright 2022 Crave Cave Brewery